Storytelling
Experience to Inspire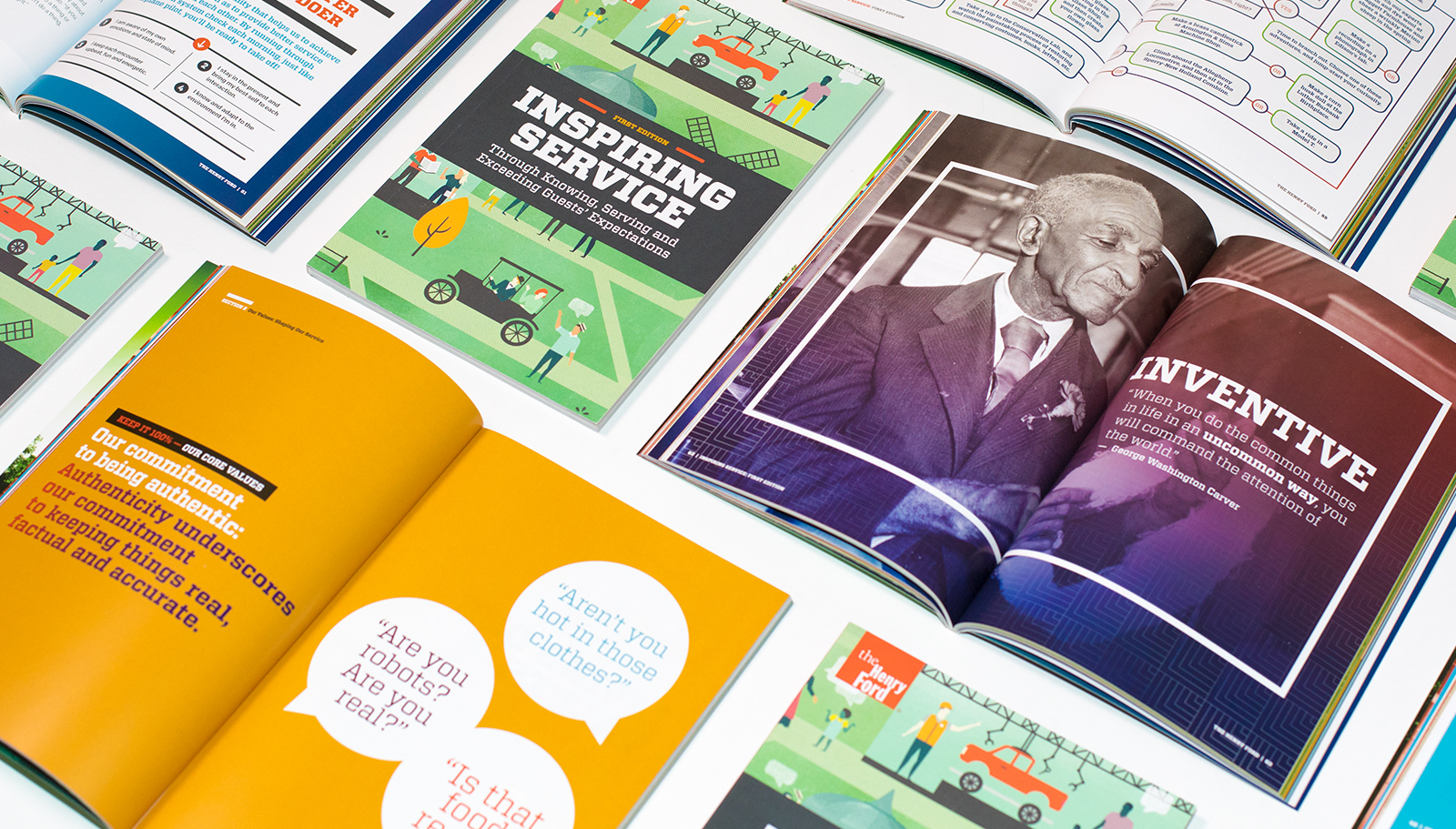 Make it fun, make it relevant, make it inspiring to the user and stay on brand.
The Henry Ford prides itself on delivering unforgettable, exceptional visitor experiences and providing inspiration to everyone who walks through the door. They wanted to give their staff — everyone from historic presenters and gift store cashiers to curators and conservators — a how-to guide to providing inspiring customer service.
We were already producing The Henry Ford's biannual magazine, as well as other related marketing materials for the educational destination. And while our friends at Applied Storytelling had already written the guide's compelling text and stories, it was our job to bring it to life on the page.
The Henry Ford constantly challenged us to "make it fun," while at the same time useful. This was an instructional booklet with key concepts that needed to be easily grasped by new staff members. By combining custom and stock illustrations along with infographics, we provided readers various avenues to understand the content in entertaining and memorable ways — as well as built their excitement to turn the page and see what they might learn next.
We set up good pacing and style for the booklet with clean, simple section starts and inspirational images and quotes (relevant to The Henry Ford) that represented the theme for that section. We ended each section with a photo of an inspiring person that had meaning to The Henry Ford family of customer service providers — Rosa Parks, Thomas Edison, etc. — and a motivational quote to compliment. Using photos related to The Henry Ford's collection with brand patterns weaved throughout was a strategic tie-in to their brand style. We also used text elements such as Did you Knows and Guest Quotes, dispersed throughout at the bottom of pages for further reader reflection, and included mind exercises such as "Choose your Own Adventure," a flowchart designed to show how they could inspire guests by immersing themselves in an actual The Henry Ford experience.
We've heard over and over that the hospitality guide was one of The Henry Ford's favorite pieces that we created for them. When we can inspire, it lets our clients feel inspired.
If you're in need of editorial direction, content creation or custom publishing, contact us and we'll help you hit the ground running.